Diabetes Management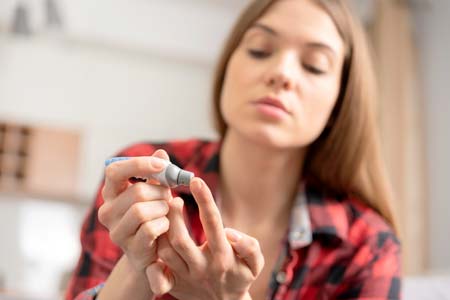 What is Diabetes?
Diabetes is a disease in which your blood glucose, or blood sugar, levels are too high. Glucose comes from the foods you eat. Insulin is a hormone that helps the glucose get into your cells to give them energy. With type 1 diabetes, your body does not make insulin. With type 2 diabetes, the more common type, your body does not make or use insulin well. Without enough insulin, the glucose stays in your blood. You can also have prediabetes. This means that your blood sugar is higher than normal but not high enough to be called diabetes. Having prediabetes puts you at a higher risk of getting type 2 diabetes.
Over time, having too much glucose in your blood can cause serious problems. It can damage your eyes, kidneys, and nerves. Diabetes can also cause heart disease, stroke and even the need to remove a limb.
Blood tests can show if you have diabetes. One type of test, the A1C, can also check on how you are managing your diabetes. Exercise, weight control and sticking to your meal plan can help control your diabetes. You should also monitor your blood glucose level and take medicine if prescribed.
Managing Diabetes
Knowing your diabetes ABCs will help you manage your blood glucose, blood pressure, and cholesterol. Stopping smoking if you smoke will also help you manage your diabetes. Working toward your ABC goals can help lower your chances of having a heart attack, stroke, or other diabetes problems.
A for the A1C test
The A1C test shows your average blood glucose level over the past 3 months. The A1C goal for many people with diabetes is below 7 percent. Ask your health care team what your goal should be.
B for Blood pressure
The blood pressure goal for most people with diabetes is below 140/90 mm Hg. Ask what your goal should be.
C for Cholesterol
You have two kinds of cholesterol in your blood: LDL and HDL. LDL or "bad" cholesterol can build up and clog your blood vessels. Too much bad cholesterol can cause a heart attack or stroke. HDL or "good" cholesterol helps remove the "bad" cholesterol from your blood vessels.
Ask your health care team what your cholesterol numbers should be. If you are over 40 years of age, you may need to take a statin drug for heart health.
S for Stop smoking
Not smoking is especially important for people with diabetes because both smoking and diabetes narrow blood vessels. Blood vessel narrowing makes your heart work harder. E-cigarettes aren't a safe option either.
Follow your diabetes meal plan
Make a diabetes meal plan with help from your health care team. Following a meal plan will help you manage your blood glucose, blood pressure, and cholesterol.
Choose fruits and vegetables, beans, whole grains, chicken or turkey without the skin, fish, lean meats, and nonfat or low-fat milk and cheese. Drink water instead of sugar-sweetened beverages. Choose foods that are lower in calories, saturated fat, trans fat, sugar, and salt.
Make physical activity part of your daily routine
Set a goal to be more physically active. Try to work up to 30 minutes or more of physical activity on most days of the week.
Brisk walking and swimming are good ways to move more. If you are not active now, ask your health care team about the types and amounts of physical activity that are right for you.
Take Your Medicine
Take your medicines for diabetes and any other health problems, even when you feel good or have reached your blood glucose, blood pressure, and cholesterol goals. These medicines help you manage your ABCs. Tell your health care professional if you cannot afford your medicines or if you have any side effects from your medicines.
Check Your Blood Glucose Levels
For many people with diabetes, checking their blood glucose level each day is an important way to manage their diabetes. Monitoring your blood glucose level is most important if you take insulin. The results of blood glucose monitoring can help you make decisions about food, physical activity, and medicines.
The most common way to check your blood glucose level at home is with a blood glucose meter. You get a drop of blood by pricking the side of your fingertip with a lancet. Then you apply the blood to a test strip. The meter will show you how much glucose is in your blood at the moment.
Ask your health care team how often you should check your blood glucose levels. Make sure to keep a record of your blood glucose self-checks.